Looking to plan a spring vacation or slip away for a weekend trip? Now is the perfect time to check out the Hood River Gorge since all the wildflowers are starting to bloom.
Here at Explore More Northwest, it is our mission to get our customers outside to go and enjoy nature. Whether you are needing tips on where to stay, what to do, or where to hike, we want to make the experience as easy as possible by sharing our own personal travels. We have put together another trip itinerary full of ideas to help fuel your next adventure.
WHERE TO STAY:
 
Maryhill State Park is nestled up right along the Columbia River Gorge allowing visitors to swim in the river, relax or play in the park, go boating & fishing or visit the surrounding attractions. Less than 10 minutes away you can go enjoy a glass of wine, live music, and tapas at Maryhill Winery. Check their calendar of events to see which bands are playing in their 4,000 seat outdoor amphitheater.
If you want to stay close to the State Park you can go for a relaxing walk and visit a local fruit stand that is less than a mile from the park. Depending on the time of the season you will be welcomed by large flats full of nectarines, peaches, cherries, and apricots at the Gunkel Orchards. We made several trips to this fruit stand during our stay at the park since we couldn't get enough of their delicious peaches!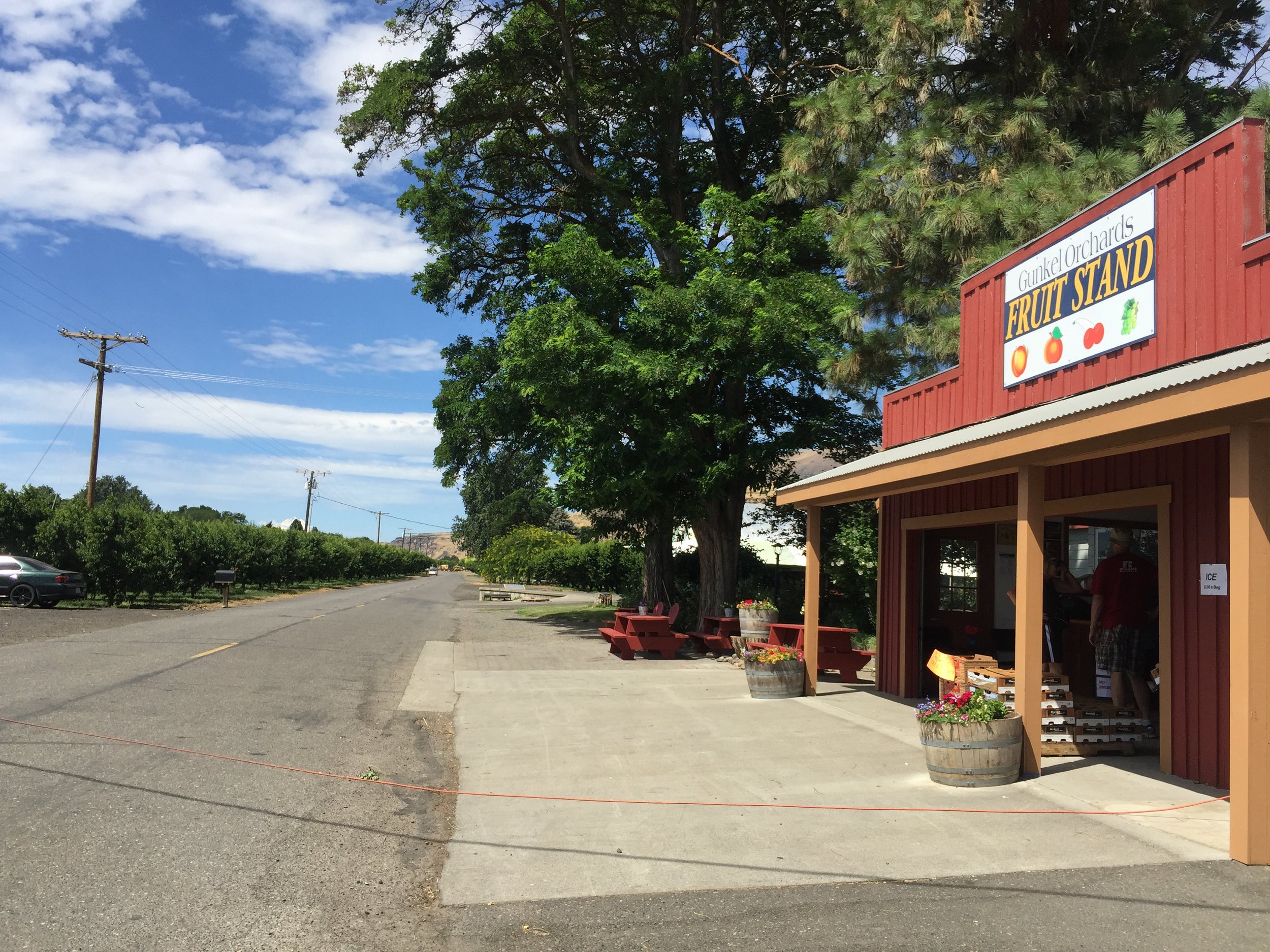 Other attractions close by include: Visiting the Maryhill Musuem and a replica of the Stonehenge that serves as a World War I Memorial.
SKAGIT VALLEY TULIP FESTIVAL TRIP ITINERARY
TRIP IDEA:
Looking for something to do next weekend?! Well we have a whole trip itinerary planned out for you to make things simple. Check out the Skagit Valley Tulip Festival, a special event that only happens during a short time in spring, April 1st-30th. Rent one of our teardrop trailers and make it a camping experience as well! We have provided our top campground choices that are within close proximity to the festivities.
WHERE TO STAY NEARBY:
*La Conner RV & Camping Resort
16362 Snee Osh Road
La Conner, WA 98257
Call to make a reservation: 877-570-2267
Website: https://www.thousandtrails.com/washington/la-conner-rv-camping-resort/directions
Availability: As of 4/5/18 there are 10 spots left
Drive time to festival: ~ 19 minutes
Thousand Trails Mt. Vernon Resort
5409 North Dark Lane Bow
Bow, WA 98232
Call to make a reservation: 877-570-2267C
Website: https://www.thousandtrails.com/washington/mount-vernon-rv-campground/
Availability: Yes, as of 4/5/18 but spots are filling up
Drive time to festival: ~16 minutes
Camano Island State Park
1880 SW Camano Drive
Camano Island, WA 98282
Website: https://parks.state.wa.us/484/Camano-Island
Availability: 42 sites, first come first serve (all sites are currently available) cash only
Phone: 360-387-1550
Drive time to festival: ~40-45 minutes
Things to do nearby: Hike/walk Cama Beach Historical State Park, walk along the beach, visit the Camano Island Marketplace, take a walk on Iverson Beach, enjoy the views of Utsalady Point
INFORMATION ON THE TULIP FESTIVAL:
When: April 1st-30th
Where: Skagit Valley (Mt. Vernon, WA area)
Website:http://tulipfestival.org/ Other Resources: http://lovelaconner.com/skagit-valley-tulip-festival/